El dengue y su incidencia en la salud de los habitantes de la república del Ecuador.
Palabras clave:
Dengue, incidencia, Ecuador, virus, prevención.
Resumen
El dengue se está convirtiendo en un problema creciente en muchas partes tropicales y subtropicales del mundo, es una enfermedad viral, existen cuatro subtipos diferentes, el virus es un flavivirus y está estrechamente relacionado con los virus de la fiebre amarilla, Nilo occidental y encefalitis japonesa, el dengue es la principal enfermedad viral transmitida por mosquitos en todo el mundo, que infecta a millones de personas cada año, al no existir tratamiento específico para la infección, se requiere cuidado y apoyo vigoroso y requiere control de vectores y protección personal para reducir las picaduras de mosquito a manera de prevención. Esta revisión tiene como objetivo primordial informar sobre el dengue y su incidencia en la salud de los habitantes de Ecuador y la carga que este supone para la salud pública del país, se aplica una metodología de revisión sistemática documental para el procesamiento de la información. Los resultados indican que durante las últimas décadas los casos de dengue han aumentado a gran escala ocasionando y generando problemas en las personas infectadas, se concluyó que el dengue es sustancial y determinar la incidencia exacta es complicado, pero al ser una infección ocasionada por un virus, constituye un gran problema para la salud pública de los países en desarrollo
Descargas
Los datos de descargas todavía no están disponibles.
Citas
Tsheten T, Clements ACA, Gray DJ, Adhikary RK, Furuya-Kanamori L, Wangdi K. Clinical predictors of severe dengue: a systematic review and meta-analysis. Infect Dis Poverty. 9 de octubre de 2021;10(1):123.
Wilder-Smith A, Gubler DJ, Weaver SC, Monath TP, Heymann DL, Scott TW. Epidemic arboviral diseases: priorities for research and public health. Lancet Infect Dis. marzo de 2017;17(3):e101-6.
Tantawichien T, Thisayakorn U. Dengue. En: Singh SK, editor. Neglected Tropical Diseases - South Asia [Internet]. Cham: Springer International Publishing; 2017 [citado 21 de agosto de 2022]. p. 329-48. (Neglected Tropical Diseases). Disponible en: https://doi.org/10.1007/978-3-319-68493-2_10
Zambrano LI, Rodriguez E, Espinoza-Salvado IA, Rodríguez-Morales AJ. Dengue in Honduras and the Americas: The epidemics are back! Travel Med Infect Dis. octubre de 2019;31:101456.
Smart WR. On Dengue or Dandy Fever. Br Med J. 1(848):382-3.
Harapan H, Michie A, Sasmono RT, Imrie A. Dengue: A Minireview. Viruses. 30 de julio de 2020;12(8):E829.
Roy SK, Bhattacharjee S. Dengue virus: epidemiology, biology, and disease aetiology. Can J Microbiol. octubre de 2021;67(10):687-702.
Gwee XWS, Chua PEY, Pang J. Global dengue importation: a systematic review. BMC Infect Dis. 19 de octubre de 2021;21(1):1078.
Baak-Baak CM, Cigarroa-Toledo N, Pech-May A, Cruz-Escalona GA, Cetina-Trejo RC, Tzuc-Dzul JC, et al. Entomological and virological surveillance for dengue virus in churches in Merida, Mexico. Rev Inst Med Trop Sao Paulo. 14 de febrero de 2019;61:e9.
Madanayake P, Jayawardena A, Wijekoon SL, Perera N, Wanigasuriya J. Fluid requirement in adult dengue haemorrhagic fever patients during the critical phase of the illness: an observational study. BMC Infectious Diseases. 20 de marzo de 2021;21(1):286.
Dissanayake DMDIB, Gunaratne WMSN, Kumarihamy KWMPP, Kularatne S a. M, Kumarasiri PVR. Use of intravenous N-acetylcysteine in acute severe hepatitis due to severe dengue infection: a case series. BMC Infect Dis. 20 de septiembre de 2021;21(1):978.
Dalugama C, Gawarammana IB. Lessons learnt from managing a case of dengue hemorrhagic fever complicated with acute liver failure and acute kidney injury: a case report. J Med Case Rep. 8 de agosto de 2018;12(1):215.
Vasanthapuram R, Shahul Hameed SK, Desai A, Mani RS, Reddy V, Velayudhan A, et al. Dengue virus is an under-recognised causative agent of acute encephalitis syndrome (AES): Results from a four year AES surveillance study of Japanese encephalitis in selected states of India. Int J Infect Dis. julio de 2019;84S:S19-24.
Kularatne SA, Dalugama C. Dengue infection: Global importance, immunopathology and management. Clin Med (Lond). enero de 2022;22(1):9-13.
World Health Organization. Regional Office for South-East Asia. Comprehensive Guideline for Prevention and Control of Dengue and Dengue Haemorrhagic Fever. Revised and expanded edition [Internet]. WHO Regional Office for South-East Asia; 2011 [citado 22 de agosto de 2022]. Disponible en: https://apps.who.int/iris/handle/10665/204894
Nguyen-Tien T, Probandari A, Ahmad RA. Barriers to Engaging Communities in a Dengue Vector Control Program: An Implementation Research in an Urban Area in Hanoi City, Vietnam. Am J Trop Med Hyg. abril de 2019;100(4):964-73.
Wharton-Smith A, Green J, Loh EC, Gorrie A, Omar SFS, Bacchus L, et al. Using clinical practice guidelines to manage dengue: a qualitative study in a Malaysian hospital. BMC Infect Dis. 11 de enero de 2019;19(1):45.
Kellstein D, Fernandes L. Symptomatic treatment of dengue: should the NSAID contraindication be reconsidered? Postgrad Med. marzo de 2019;131(2):109-16.
Flores HA, Taneja de Bruyne J, O'Donnell TB, Tuyet Nhu V, Thi Giang N, Thi Xuan Trang H, et al. Multiple Wolbachia strains provide comparative levels of protection against dengue virus infection in Aedes aegypti. PLoS Pathog. abril de 2020;16(4):e1008433.
Nujum ZT, Saritha N, Prathibha Raj MR, Gayathri AV, Nirmala C, Vijayakumar K, et al. Seroprevalence of dengue infection in pregnant women and placental antibody transfer. Med J Armed Forces India. enero de 2019;75(1):90-5.
Zeng Z, Zhan J, Chen L, Chen H, Cheng S. Global, regional, and national dengue burden from 1990 to 2017: A systematic analysis based on the global burden of disease study 2017. eClinicalMedicine [Internet]. 1 de febrero de 2021 [citado 23 de agosto de 2022];32. Disponible en: https://www.thelancet.com/journals/eclinm/article/PIIS2589-5370(20)30456-9/fulltext
Yang X, Quam MBM, Zhang T, Sang S. Global burden for dengue and the evolving pattern in the past 30 years. Journal of Travel Medicine. 1 de diciembre de 2021;28(8):taab146.
Du M, Jing W, Liu M, Liu J. The Global Trends and Regional Differences in Incidence of Dengue Infection from 1990 to 2019: An Analysis from the Global Burden of Disease Study 2019. Infect Dis Ther. 1 de septiembre de 2021;10(3):1625-43.
Vásquez-Trujillo A, Cardona-Arango D, Segura-Cardona AM, Parra-Henao GJ. Burden of dengue in the State of Meta, Colombia (2010-2016). Cad Saúde Pública. 26 de junio de 2020;36:e00055119.
O'Reilly KM, Hendrickx E, Kharisma DD, Wilastonegoro NN, Carrington LB, Elyazar IRF, et al. Estimating the burden of dengue and the impact of release of wMel Wolbachia-infected mosquitoes in Indonesia: a modelling study. BMC Medicine. 9 de septiembre de 2019;17(1):172.
López-Montenegro LE, Pulecio-Montoya AM, Marcillo-Hernández GA. Dengue Cases in Colombia: Mathematical Forecasts for 2018–2022. MEDICC rev. 11 de noviembre de 2019;21:38-45.
Stewart-Ibarra AM, Ryan SJ, Kenneson A, King CA, Abbott M, Barbachano-Guerrero A, et al. The Burden of Dengue Fever and Chikungunya in Southern Coastal Ecuador: Epidemiology, Clinical Presentation, and Phylogenetics from the First Two Years of a Prospective Study. Am J Trop Med Hyg. mayo de 2018;98(5):1444-59.
Haikerwal A, Bhatt ML, Saxena SK, Haikerwal A, Bhatt ML, Saxena SK. Reducing the Global Burden of Dengue: Steps toward Preventive Methods. Archives of Preventive Medicine. 7 de julio de 2017;2(1):028-33.
Ramos-Castañeda J, Santos FB dos, Martínez-Vega R, Araujo JMG de, Joint G, Sarti E. Dengue in Latin America: Systematic Review of Molecular Epidemiological Trends. PLOS Neglected Tropical Diseases. 9 de enero de 2017;11(1):e0005224.
Stanaway JD, Shepard DS, Undurraga EA, Halasa YA, Coffeng LE, Brady OJ, et al. The global burden of dengue: an analysis from the Global Burden of Disease Study 2013. Lancet Infect Dis. junio de 2016;16(6):712-23.
Lee GO, Vasco L, Márquez S, Zuniga-Moya JC, Engen AV, Uruchima J, et al. A dengue outbreak in a rural community in Northern Coastal Ecuador: An analysis using unmanned aerial vehicle mapping. PLOS Neglected Tropical Diseases. 27 de septiembre de 2021;15(9):e0009679.
Rosas GDP, Lira BMM, Suarez P, Francis NAE. CARACTERIZACIÓN DE BROTE DE DENGUE EN BARRIOS DE PARROQUIA ESMERALDAS.: Characterization of dengue outbreak in neighborhoods of Esmeraldas Parish. Más Vita. 2021;3(1):7-17.
Gutiérrez-Vera E, Patiño L, Castillo-Segovia M, Mora-Valencia V, Montesdeoca-Agurto J, Regato-Arrata M. Seroprevalence of arboviruses in Ecuador: Implications for improved surveillance. Biomedica. 29 de junio de 2021;41(2):247-59.
Ávila-Chóez AM. Dengue en Salud Pública: Revisión clínica. Ciencia Ecuador. 5 de septiembre de 2020;2(4):1-7.
Guevara Uribe VJ, Jaime Barrezueta MF. Prevalencia de casos con dengue en pacientes pediátricos de 1 a 15 años en el hospital general Guasmo Sur durante el periodo enero 2017 a enero 2020. 11 de septiembre de 2020 [citado 23 de agosto de 2022]; Disponible en: http://repositorio.ucsg.edu.ec/handle/3317/15360
Jácome G, Vilela P, Yoo C. Present and future incidence of dengue fever in Ecuador nationwide and coast region scale using species distribution modeling for climate variability's effect. Ecological Modelling. 24 de mayo de 2019;400:60-72.
Baque JMR, Cedeño NV, Castro TIV, Villafuerte KMM. Prevalencia y factores eco-epidemiologicos asociados a la emergencia y reemergencia de arbovirosis en Ecuador. Polo del Conocimiento: Revista científico - profesional. 2019;4(10):220-40.
Gaspar BEA, Rosas GP. PREVALENCIA DEL VIRUS DE DENGUE Y FACTORES DE RIESGO EN PACIENTES QUE ASISTIERON A LAS UNIDADES DE SALUD DEL CANTÓN ESMERALDAS EN EL 2019: Prevalence of the dengue virus and risk factors in patients who attended the health units of the Esmeraldas canton in 2019. Más Vita. 1 de julio de 2022;4(2):412-20.
Márquez S, Carrera J, Espín E, Cifuentes S, Trueba G, Coloma J, et al. Dengue Serotype Differences in Urban and Semi-rural Communities in Ecuador. ACI Avances en Ciencias e Ingenierías [Internet]. 6 de noviembre de 2018 [citado 23 de agosto de 2022];10(1). Disponible en: https://revistas.usfq.edu.ec/index.php/avances/article/view/959
Real-Cotto JJ, Regato Arrata ME, Burgos Yépez VE, Jurado Cobeña ET. Evolución del virus dengue en el Ecuador: Período 2000 a 2015. Anales de la Facultad de Medicina. enero de 2017;78(1):29-35.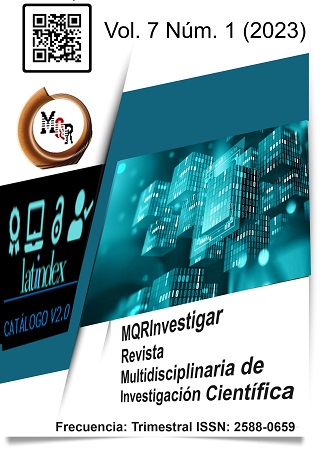 Cómo citar
Arcentales Hernández, L. B., Aragón Montaño, I. S., & Fuentes Sánchez, E. T. (2023). El dengue y su incidencia en la salud de los habitantes de la república del Ecuador. MQRInvestigar, 7(1), 2948–2963. https://doi.org/10.56048/MQR20225.7.1.2023.2948-2963
Licencia
Derechos de autor 2023 MQRInvestigar
Esta obra está bajo una licencia internacional Creative Commons Atribución 4.0.