Uso de canciones para familiarizar a los alumnos adultos con pronunciación en el aula de ESL.
Palabras clave:
Educación, Inglés, Pronunciación, Canciones, Educación para adultos
Resumen
La lengua inglesa se ha enseñado habitualmente como una asignatura teórica porque la lengua es un ser vivo que cambia a diario a través de la muerte y acuñación de palabras y reglas gramaticales. Por lo tanto, debe enseñarse de forma pragmática como si se enseñara un arte, un oficio o tal vez un deporte de campo para que pueda aplicarse en la vida real. Por lo tanto, es necesario incorporar la enseñanza de la pronunciación para mejorar la productividad en la clase de enseñanza de inglés. El propósito de esta investigación es analizar el mejoramiento de la pronunciación teniendo como herramienta crítica el uso de canciones que contengan elementos pedagógicos y fonológicos en un grupo de estudiantes adultos. Este proyecto de investigación está dirigido a estudiantes de básica superior y del bachillerato intensivo del Colegio "Luis Cordero". Se diseñaron diferentes actividades orales y escritas para introducir y familiarizar a los estudiantes con los símbolos de pronunciación, seguidos de la mímica para la articulación y las reglas básicas para la producción de sonidos del idioma inglés. Los resultados mostraron que los estudiantes mejoraron sus habilidades de pronunciación y la motivación para aprender Inglés como segunda lengua.
Descargas
Los datos de descargas todavía no están disponibles.
Citas
Andrade, C. (2017). The use of songs in the English Language Teaching-Learning Process of the 6th Level Basic Education Students at "Francés" Private Educational Institution in Esmeraldas. International Congress on the Didactics of the English Language Journal, 2(1). Obtenido de http://revistas.pucese.edu.ec/ICDEL/index
Asmaradhani, A., Evendi, R., Mursid, A., & Abdul, R. (2018). Fixing Students' Pronunciation Using Songs. JOLLT, 6(2), 77-85. doi: https://doi.org/10.33394/jollt.v6i2.1258
Derwing, T., & Munro, M. (2015). Alice Henderson. Intelligibility and identity: From teaching pronunciation to training for spoken. Amsterdam: John Benjamins Publishing Company. doi:https://doi.org/10.1075/lllt.42
Doloh, S., & Chanyoo, N. (2022). Relationships Between Thai EFL Learners' Factors, Intelligibility, and Comprehensibility Towards Varieties of English. Theory and Practice in Language Studies, 12(1), 46-54. doi:https://doi.org/10.17507/tpls.1201.06
Evers, K., & Chen, S. (2021). Effects of Automatic Speech Recognition Software on Pronunciation for Adults With Different Learning Styles. Journal of Educational Computing Research, 59(4), 669-685. doi:https://doi.org/10.1177/0735633120972011
Goss-Sampson, M. (2019). Análisis estadístico con JASP. Barcelona: JASP.
Hismanoglu, M., & Hismanoglu, S. (2010). Language teachers' preferences of pronunciation teaching techniques: traditional or modern? Procedia, 2(2), 983-989. doi:https://doi.org/10.1016/j.sbspro.2010.03.138
JASP. (2023). A fresh way to do statistics. Obtenido de JASP: https://jasp-stats.org/
Merlino, S. (2014). Singing in "another" language: how pronunciation matters in the organisation of choral rehearsals. Social Semiotics, 24(4), 420-445. doi:https://doi.org/10.1080/10350330.2014.929390
Merriam, S. (2018). Adult learning theory. En I. Knud, Contemporary Theories of Learning (págs. 21-37). Routledge. Obtenido de https://www.taylorfrancis.com/chapters/edit/10.4324/9781315147277-6/adult-learning-theory-sharan-merriam
Nurani, S., & Rosyada, A. (2015). Assessments, Improving English Pronunciation of Adult ESL Learners through Reading Aloud. Lingua Cultura, 9, 18-113. doi:10.21512/lc.v9i2.825
O'Brien, M. (2014). L2 Learners' assessments of accentedness, fluency, and comprehensibility of native and non-native German speech. Language Learning, 64(4), 715-748. Obtenido de https://eric.ed.gov/?id=EJ1044984
Panggabean, H., & Batubara, L. (2022). Utilizing a Karaoke App in Learning English Pronunciation: A Case Study of EFL College Students. International Journal of English and Applied Linguistics (IJEAL), 2(1), 103-111. doi:doi.org/ijeal.v2i1.1432
Pennington, M. (2021). Teaching Pronunciation: The State of the Art 2021. RELC Journal, 52(1), 3-21. doi:https://doi.org/10.1177/00336882211002283
Pourhosein, A., & Banou, N. (2016). Why Is English Pronunciation Ignored by EFL Teachers in Their Classes? International Journal of English Linguistics, 6(6), 195-208. doi:http://dx.doi.org/10.5539/ijel.v6n6p195
Rais, B., Pranowo, D., & Intan, R. (2020). The Use of Song in Teaching English Pronunciation. Proceedings of the 1st International Conference on Language, Literature, and Arts Education(461), 133-137. doi:10.2991/assehr.k.200804.025
Rengifo, A. (2009). Improving Pronunciation through the Use of Karaoke in an Adult English Class. Profile Issues in Teachers' Professional Development, 11, 91-106. Obtenido de http://www.scielo.org.co/scielo.php?script=sci_arttext&pid=S1657-07902009000100007&lng=en&tlng=en
Rezvani, E., Kumar, T., Akhter, S., Yunus, M. M., & Shamsy, A. (2022). Use of Music and Songs as Pedagogical Tools in Teaching English as Foreign Language Contexts. Education Research International. doi:https://doi.org/10.1155/2022/3384067
Stanculea, A. (2015). Teaching pronunciation through songs. Journal Plus Education, 12(2), 177-184. Obtenido de https://www.ceeol.com/search/article-detail?id=617435
Tavadze, L., Disamidze, I., & Katamadze, N. (2021). Using song to motivate students. The Eurasia Proceedings of Educational & Social Sciences, 20, 91-95. Obtenido de http://www.epess.net/en/download/article-file/2140655
Wei, M. (2021). Linguistic Dimensions of Accentedness, Comprehensibility and Intelligibility: Exploring Listener Effects in American, Moroccan, Turkmen and Chinese Varieties of English. Chinese Journal of Applied Linguistics, 44(4), 520-542. doi:https://doi.org/10.1515/CJAL-2021-0033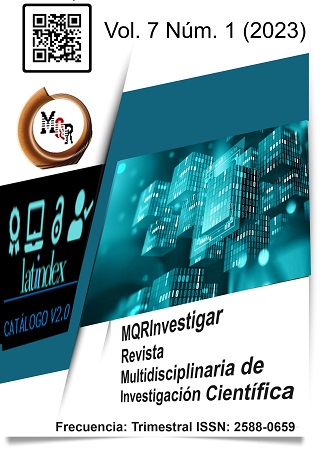 Cómo citar
Minchala Campoverde, L. G., & Argudo Garzón, A. L. (2023). Uso de canciones para familiarizar a los alumnos adultos con pronunciación en el aula de ESL. MQRInvestigar, 7(1), 2701–2719. https://doi.org/10.56048/MQR20225.7.1.2023.2701-2719
Licencia
Derechos de autor 2023 MQRInvestigar
Esta obra está bajo una licencia internacional Creative Commons Atribución 4.0.